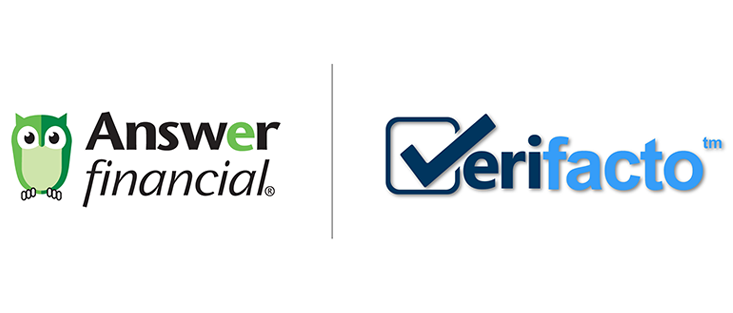 Answer Financial and Verifacto Partner to Bring Customers Back Into Auto Loan Compliance
The partnership empowers auto dealer lienholders to quickly pinpoint customers in default on their insurance and match them with a new policy
ENCINO, Calif., (October 25, 2016) – Answer Financial®, one of the largest auto and home insurance agencies in the U.S., representing more than 20 insurance companies on its comparison platform, today announced its partnership with VerifactoTM, the leading cloud-based risk management technology company for auto dealers and auto finance companies.
Verifacto's technology is designed to improve the way lienholders track the insurance compliance for its customers. The platform includes an interactive dashboard with built-in email and SMS functionality, enabling auto dealer and auto finance companies to send payment reminders and insurance notices to customers in the event that they have a lapse in payment or cancel an existing insurance policy without selecting a replacement.
Through the partnership, Verifacto can now introduce an insurance comparison shopping and buying solution with its notifications, to help customers find a new policy quickly and for a competitive price. The insurance platform is branded VeriSuranceTM, a subsidiary of Verifacto, and is powered by Answer Financial's industry leading comparison platform.
"Answer Financial enables us to improve upon our mission of providing secure solutions for our clients to manage and mitigate their lienholder responsibilities, while maximizing their financial and operational efficiencies," said Hezi Moore, CEO of Verifacto. "By partnering together to provide our clients with this particular work flow solution, we'll improve upon our overall value propositions in what we can offer automotive dealers and auto finance companies."
"Verifacto has first-hand and immediate knowledge when a customer defaults on their insurance, and we're the perfect partner to help these customers find a new policy and get back into compliance on their car loans," said Tom Capp, SVP Business Development for Answer Financial. "We're excited to team up with lienholders and to protect drivers."
In addition to tracking customers' insurance compliance for auto dealers and auto finance companies, Verifacto enables Buy Here Pay Here dealers to help car buyers obtain immediate quoting and binding of coverage at the point-of-sale. Customers can call at any time in the buying process to speak with one of Answer Financial's expert and US-based insurance agents. The easy-to-use platform allows customers to speed through the insurance purchase and get them into the F&I process.
On his experience as a Verifacto client, Ronnie Ranes, Director of Sales & Marketing for M&S Auto Sales said, "VeriSurance is a great addition to the Verifacto platform because it enables our customer to purchase insurance when they purchase a car, expediting the sales process. By matching them with the best car insurance companies based on their needs, our customers are sometimes able to qualify for a larger vehicle purchase by reducing their monthly insurance payment."
About Answer Financial® Inc.
Answer Financial, through its agencies Insurance Answer Center and Right Answer Insurance, is one of the largest independent personal lines agency operations in the nation, providing auto and home insurance policies directly to consumers and through a broad network of marketing partners. Answer Financial serves the growing segment of self-directed consumers searching for the best way to save money on insurance by providing one easy place to Shop, Compare, and Buy Insurance. By leveraging technology and partnerships with top-rated insurers including sister company, Esurance, Answer Financial can provide real-time comparison rates for virtually every consumer. Customers can purchase online or over the phone with the guidance of an insurance expert. Answer Financial is a member of the Allstate family of companies.
About VeriSurance
VeriSurance is an online auto insurance comparison platform that delivers fast, accurate and competitive rates from leading US carriers based on your specific needs. VeriSurance connects drivers with the right Insurance coverage for the most affordable price. Headquartered in Atlanta, Georgia, VeriSurance is dedicated to enabling consumers to receive real-time personalized insurance quotes and allow drivers to find the best value.