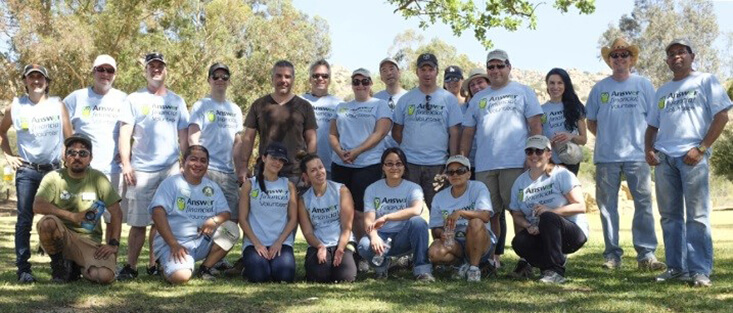 Answer Financial Associates Give Back to Communities During Month of Service
The company launches Community Answer program to support volunteer efforts with local non-profit organizations
Encino, CA; August 5, 2015 Answer Financial®, one of the largest auto and home insurance agencies in the U.S., turned out to support nine local charities this June for the company's Month of Service. During this time, associates were given the opportunity to volunteer with local non-profit organizations in the community during company hours. Answer adopted the Month of Service in alignment with its parent company, Allstate, after participation in the company's 2014 service events generated substantial enthusiasm among Answer's associates.
To support this growing initiative, Answer has established a new volunteer program known as Community Answer that will continue to provide opportunities for associates to give back to their communities.
"We are in the business of helping people protect what's important to them," said Rob Slingerland, CEO. "Community Answer extends this commitment to our neighbors, whether that means building homes with Habitat for Humanity, helping to feed people in need through local food banks, or by caring for public parks in our neighborhoods."
Community Answer was established to provide continued support for the company's non-profit partners and to unify its volunteer efforts across all of its locations.
"The program will build volunteerism into our culture, foster teamwork and promote a sense of community that reinforces our values as a company."
In total, Answer associates volunteered with nine non-profit organizations within four communities in which Answer has local offices. These organizations included:
New Friends Homeless Center and Tree People in Encino, California, home of the Answer Financial headquarters
Ogden Nature Center and Union Station Foundation out of Ogden, Utah, where Answer's newest and growing office is located
Habitat for Humanity and Salvation Army in Knoxville, Tennessee, where the company's flagship sales center is located
Chattanooga Community Kitchen in the company's second Tennessee office
To learn more about Answer's volunteer efforts and these organizations, visit the Community Answer page on the Answer website. To view employment opportunities with Answer Financial, visit AnswerFinancial.com/careers or call 1-844-AFI-JOBS.