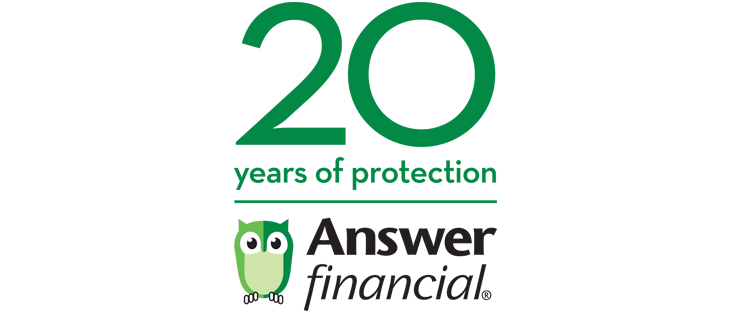 Answer Financial Celebrates 20 Years of Protecting Customers with its Auto and Home Insurance Offerings
Encino, CA – December 6, 2017
Auto and home insurance agency Answer Financial® is celebrating its 20th Anniversary this year. Since its founding in 1997 as a pioneering insurtech startup, Answer has grown to become one of the largest personal lines insurance agencies in the U.S., representing more than 30 top-rated carriers on its proprietary comparative quoting and policy sales platform. By building strategic partnerships with businesses that want to offer an insurance shopping solution to their customers, Answer has sold more than 3.5 million policies, both online and through its award-winning call centers.
During the past 20 years, the industry has taken major advances toward digitization and automation. Answer has been a leader in this regard by developing a variety of innovative products designed for today's insurance shopper. In 2005, Answer began what at the time was revolutionary – allowing people to compare rates from multiple top-rated insurers and purchase auto insurance completely online. Answer continues to maintain its reputation for innovation through new services and products such as its recently launched Homeowners Insurance Comparison offering, the Answer Mobile policy holder app, Rate Tracker, and Streetwise, a telematics-based driving app.
"Our legacy as one of the first insurtech companies, plus the support we receive from our parent company Allstate, has given us the experience to effectively grow and evolve, along with the resources to experiment and innovate," said Rob Slingerland, President and CEO of Answer Financial. "We are dedicated to creating the fastest and most user-friendly insurance shopping experience in the industry for our partners to offer as an extension of their services to customers."
Answer has developed a suite of customer-focused technologies that deliver insurance solutions how and when customers want them. The Answer Mobile™ policyholder app provides customers with digital policy ID cards, roadside assistance and click-to-call claims. Answer has expanded its services in recent years to offer 24/7 availability, as well as customer ratings and reviews side-by-side with insurance quotes online. Answer customers also benefit from its exclusive Rate Tracker™ price alert tool that shops insurance rates at renewal time and alerts customers if they could be saving more with another plan.
The company's insurance shopping platform and other technology offerings can be co-branded or white-labeled by its marketing partners to provide a seamless customer experience, while simultaneously opening new channels of communication and sales for its insurance carrier partners. Through their partnerships with Answer, companies like LendingTree and Primerica are able to offer auto and home insurance products to their customers through customized experiences online, on mobile devices, and through Answer's 300+ licensed sales agents in its three US-based call centers.
As the landscape of insurance rapidly evolves, Answer has taken a forward-facing approach with its Streetwise® telematics-based driving app that lets drivers earn rewards for smart driving. Streetwise provides feedback after each trip to help people better understand the way they drive. Answer is then able to connect insurance carrier partners with insurance shoppers based on that shopper's actual driving behavior.
"Over the past two decades, we have observed a shift in insurance shopping habits for a large segment of the population," said Slingerland. "While many people still prefer to meet face-to-face with their insurance agent, a large segment of customers prefer to shop and compare rates either online or over the phone 24×7. Answer is here to serve these customers."
To compare quotes on insurance, visit AnswerFinancial.com or speak with a licensed agent at 1-855-750-6627. To learn how Answer can power your company's insurance offering, visit b2b.answerfinancial.com or contact businessdevelopment@answerfinancial.com. For more information on Answer's telematics-based offerings, contact Jacque.Graham@AnswerFinancial.com.
About Answer Financial® Inc.
Answer Financial, through its agencies Insurance Answer Center and Right Answer Insurance, is one of the largest independent personal lines agency operations in the nation, providing auto and home insurance policies directly to consumers and through a broad network of marketing partners. Answer Financial serves the growing segment of self-directed consumers searching for the best way to save money on insurance by providing one easy place to shop, compare, and buy insurance. By leveraging technology and partnerships with top-rated insurers, Answer Financial can provide real-time comparison rates for virtually every consumer. Customers can purchase online or over the phone with the guidance of an insurance expert. Answer Financial is a member of the Allstate family of companies.