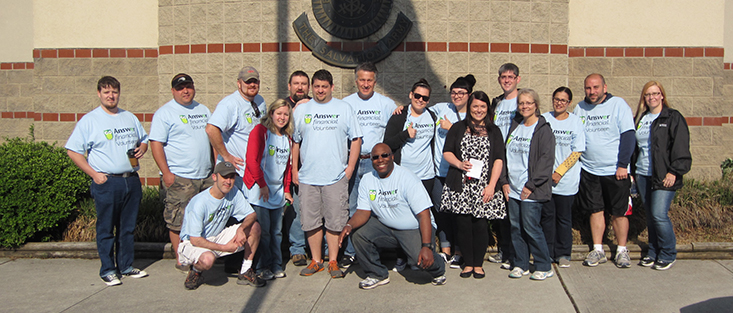 Answer Financial Inc. and TreePeople Team Up to Make Los Angeles' Chatsworth Oaks Park Greener
Encino, CA; June 9, 2014 Answer Financial® Inc., the original insurance comparison company, teamed up with TreePeople to care for trees in Chatsworth Oaks Park, a public park maintained and operated by the City of Los Angeles. On May 16 in near record-breaking temperatures, volunteers from Answer Financial dug in to improve conditions for 22 trees throughout the 3-acre park.
"TreePeople does great work in our community, planting and nurturing trees to provide shade for families enjoying our public parks," comments Craig Lozofsky, Chief Marketing Officer at Answer. "I was proud to see our team jump at the opportunity to get their hands dirty and help out during this drought."
"We are grateful to the caring employees of Answer Financial for their help in saving LA's stressed trees during this year of record drought," says TreePeople Founder and President Andy Lipkis. "It takes all of us to 'adopt' trees and ensure they have enough water to make it through the dry season. Answer Financial's service has helped TreePeople's mission to create a sustainable Los Angeles."
Answer Financial is headquartered in Encino, California, with additional offices in Knoxville and Chattanooga, Tennessee. Candidates interested in joining Answer's growing sales team are encouraged to apply online at www.AnswerFinancial.com/Careers, send resumes to careers@answerfinancial.com or call 1-844-AFI-JOBS. Comprehensive benefits are available to employees including health, dental and vision insurance, matched 401K and charitable contributions, and competitive compensation.
Drivers and homeowners interested in comparing quotes on auto and home insurance can speak with a licensed Answer Financial insurance agent at 1-888-737-7000 or get quotes online at www.AnswerFinancial.com.
About Answer Financial® Inc.
Answer Financial, through its agencies Insurance Answer Center and Right Answer Insurance, is one of the largest independent personal lines agency operations in the nation, providing auto and home insurance policies directly to consumers and through a broad network of marketing partners. Answer Financial serves the growing segment of self-directed consumers searching for the best way to save money on insurance by providing one easy place to Shop, Compare, and Buy Insurance. By leveraging technology and partnerships with top-rated insurers including sister company, Esurance, Answer Financial can provide real-time comparison rates for virtually every consumer. Customers can purchase online or over the phone with the guidance of an insurance expert. Answer Financial is a member of the Allstate family of companies.
About TreePeople
TreePeople's mission is to inspire, engage and support people to take personal responsibility for the urban environment, making it healthy, fun, safe and sustainable and to share the process as a model for the world. For more than a decade TreePeople has been a recognized leader in integrated urban watershed management in the L.A. region. Our focus is on managing rainwater by incorporating green, nature-based infrastructure into urban areas. We are demonstrating that this approach yields numerous environmental, social and economic benefits, while helping eliminate waste and duplication. TreePeople has recently completed a 10-year vision to help the Los Angeles region achieve a tipping point toward climate resilience and sustainable water supplies.