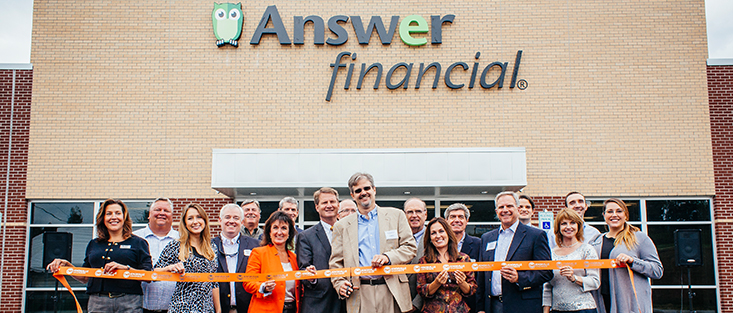 Answer Financial Inc. Celebrates Knoxville Sales Center Grand Opening
Industry-leading auto and home insurance exchange aims to hire 50 new associates at its new West Knoxville sales center by the end of 2013.
Encino, CA; October 16, 2013 Answer Financial Inc. CEO Rob Slingerland and Mayor Tim Burchett of Knoxville County welcomed prominent community leaders and an array of Answer's insurance and business partners from around the country on Tuesday afternoon, to celebrate the grand opening of Answer's new offices in West Knoxville.
The state-of-the-art, 32,775 square foot facility now serves as the company's primary sales center, where hundreds of insurance agents assist people across the country compare rates on auto and home insurance, and obtain coverage from one of Answer's 20 insurance carrier partners.
Rob Slingerland, Answer President and CEO, thanked guests and those that contributed to the construction project and recognized Knoxville's importance to Answer. "This beautiful new building represents our continued belief in the Knoxville community as a valuable partner in the future growth of Answer Financial. This state-of-the art facility is also a reflection of our ongoing investment in one of our biggest assets, our local associates."
Answer recently announced its goal to hire 50 Knoxville associates by year-end. Answer's new location at the Bridgewater Road exit off I-40/75 was chosen in part to attract and retain associates due to the location's proximity to residences, banks, restaurants and retail services.
"It's always good to see businesses grow and expand in our community," said Knox County Mayor Tim Burchett. "In addition to providing important jobs in Knox County, Answer Financial is also a strong community partner."
The modern facility, adjacent to the Ten Mile Creek Greenway pedestrian trail, is designed with panoramic views of the area. Noise suppression technology and an open floor plan interspersed with huddle rooms and robust natural lighting promote a collaborative team environment. The facility was designed by George Armour Ewart Architect and constructed by Providence Commercial Real Estate.
Anyone interested in career opportunities at the new Knoxville location or at Answer's Chattanooga office is encouraged to visit www.AnswerFinancial.com/Careers to apply online or to email their resume to careers@answerfinancial.com. Comprehensive benefits are available to employees including health, dental and vision insurance, matched 401K, competitive salary plus bonus, paid licensing and training, and a 4-day / 40-hour work schedule.
Drivers and homeowners interested in comparing quotes on auto and home insurance can speak with a licensed Answer Financial insurance agent at 1-888-737-7000 or get quotes online at www.AnswerFinancial.com.
About Answer Financial® Inc.
Answer Financial, through its agencies Insurance Answer Center and Right Answer Insurance, is one of the largest independent personal lines agency operations in the nation, providing auto and home insurance policies directly to consumers and through a broad network of marketing partners. Answer Financial serves the growing segment of self-directed consumers searching for the best way to save money on insurance by providing one easy place to Shop, Compare, and Buy Insurance. By leveraging technology and partnerships with top-rated insurers including sister company, Esurance, Answer Financial can provide real-time comparison rates for virtually every consumer. Customers can purchase online or over the phone with the guidance of an insurance expert. www.AnswerFinancial.com