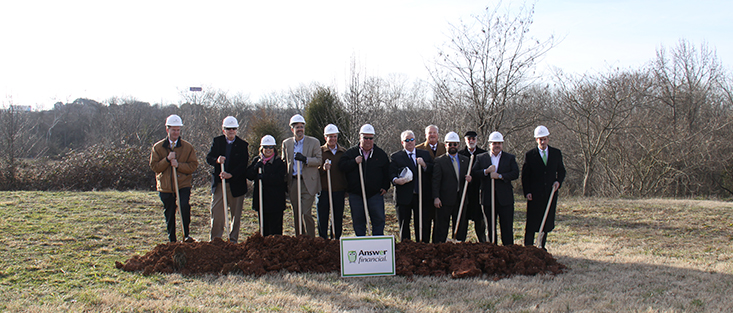 Answer Financial Inc. has broken ground on new Knoxville, Tennessee Sales Center
Company growth is expected to bring more than 100 new jobs to Knoxville.
Encino, CA – January 25, 2013 – Answer Financial Inc. (www.answerfinancial.com), is proud to announce it broke ground Thursday evening on a new 32,775 square foot facility in Knoxville that will serve as the company's primary sales center. The office will have capacity for more than 400 employees, which will support current staff and future growth. Construction began this week and the state-of-the-art facility is anticipated to open for business by early fall of 2013.
The Knoxville Chamber and local business leaders attended a groundbreaking ceremony for the company, where Knoxville City Mayor Rogero and County Mayor Burchett spoke alongside Answer Financial CEO, Rob Slingerland.
"Breaking ground on this new building demonstrates our commitment to the Innovation Valley," stated Slingerland. "Knoxville is an important part of our growth plans. We are planning on hiring over 100 people at this location in the next 12-24 months."
The relocation to the West Knoxville area will be beneficial in attracting and retaining associates by offering a more central location with easy access to dining and services. "We chose a great site in West Knoxville at a convenient exit on I-40/75, which will shorten the commute for the majority of our team, and in fact double the number of associates that will be less than a 15 minute drive from the office," commented Peter Foley, SVP of Sales and Client Services. "In addition, over 90% of recent applicants live closer to our new West Knoxville location."
The building will be constructed by Providence Commercial Real Estate, led by John-David Roddy, and will boast the modern design of George Armour Ewart Architect. The design includes an open floor plan with large exterior windows for natural light and outdoor views. The facility is adjacent to the Ten Mile Creek Greenway – a pedestrian trail connecting the city and county boundaries – providing a convenient route for employees who prefer cycling to work. Associates will be within a five-minute drive of 75 restaurants, 15 banking locations, and prime retail shopping.
"We would also like to express our appreciation for the support of the community and officials of nearby Oak Ridge, Tennessee which we have called home for more than a decade," added Slingerland.
Answer Financial, which is one of the largest auto and home insurance agencies in the U.S, has expansion plans in Tennessee beyond Knoxville, including a new sales office opened this month in nearby Chattanooga. If you are interested in employment opportunities with Answer Financial, visit www.answerfinancial.com/careers or email your resume to careers@answerfinancial.com.
About Answer Financial® Inc.
Answer Financial is one of the largest independent personal lines agencies in the nation, providing auto and home insurance policies directly to consumers and through a broad network of marketing partners. Answer Financial serves the growing segment of self-directed consumers searching for the best way to save money on insurance by providing one easy place to Shop, Compare, and Buy Insurance. By leveraging technology and partnerships with top-rated insurers including sister company Esurance, Answer Financial can provide real-time comparison rates for virtually every consumer. Customers can purchase online or over the phone with the guidance of an insurance expert. Answer Financial is a member of the Allstate family of companies. www.answerfinancial.com