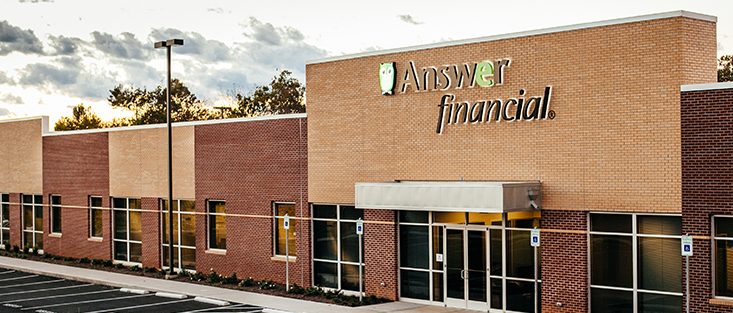 Answer Financial Inc. Relocates to Knoxville, Will Hire 50 Associates
Insurance agents of the nation's leading online auto and home insurance agency will operate from a brand new facility in West Knoxville. A career fair open house is being held October 2 and 3 at the new location to support the company's growth plans.
Encino, CA; October 2, 2013 Answer Financial Inc. (www.AnswerFinancial.com), one of the largest auto and home insurance agencies in the U.S., is pleased to announce the relocation of its main Tennessee call center to West Knoxville. It will kick off the first week in its new state-of-the-art sales center with a Career Fair and open house. The Career Fair is open to the public and will be held October 2 from 7AM to 3PM, and October 3 from 10AM to 7PM. Interested candidates are encouraged to stop by and meet the team, engage in an onsite interview, and see the new offices, just constructed off the I-40/75 highway at Bridgewater Road (exit 379). The office is slated to open next week.
Answer has deep roots in East Tennessee dating back a decade, and will now call Knoxville home for its flagship sales center, where hundreds of agents help drivers and homeowners across the country find the right insurance for their needs among more than twenty well-known brands including Safeco, The Hartford, MetLife?, Progressive and Esurance.
The company has experienced steady growth in recent years and is forecasting continued expansion. This has led Answer to ramp up its recruiting efforts, with a goal to bring on another 50 members to its Knoxville sales force before year end, as well as another 15 at its Chattanooga location.
In selecting its new location, Answer identified that 90% of applicants reside near its new office in West Knoxville, and the relocation would better position the company to attract and retain associates. The area offers a location more accessible to current and new associates with access to dining and services.
"It's important for us to acknowledge and accommodate the needs of our associates," commented Peter Foley, SVP of Sales and Client Services. "We look forward to growing our presence as a leading employer and contributor to the Knoxville community."
"We take good care of our team," commented Lance Dawson, Human Resources Director. "We offer a wide range of benefits to help our associates succeed from the time they join us and well into the future, including medical and dental insurance, matched 401K, base plus performance compensation, and paid training and licensing. We are always hiring and we encourage anyone interested in a professional career with high earning potential to call us today."
Candidates with or without sales experience will be considered. To apply for an available position, email your resume to careers@answerfinancial.com or visit the website at www.answerFinancial.com/Careers. To compare personalized quotes on auto or home insurance, call 1-800-233-3028
 or visit www.AnswerFinancial.com.
About Answer Financial® Inc.
Answer Financial, through its agencies Insurance Answer Center and Right Answer Insurance, is one of the largest independent personal lines agency operations in the nation, providing auto and home insurance policies directly to consumers and through a broad network of marketing partners. Answer Financial serves the growing segment of self-directed consumers searching for the best way to save money on insurance by providing one easy place to Shop, Compare, and Buy Insurance. By leveraging technology and partnerships with top-rated insurers including sister company, Esurance, Answer Financial can provide real-time comparison rates for virtually every consumer. Customers can purchase online or over the phone with the guidance of an insurance expert. Answer Financial is a member of the Allstate family of companies. www.AnswerFinancial.com