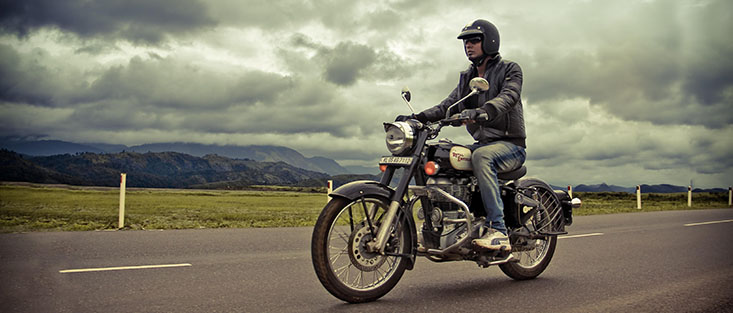 Answer Financial Inc. Shares Tips for Motorcyclists
Encino, CA; June 13, 2014 This Monday bikers are encouraged to hit the road as part of the 23rd Annual International Motorcycle & Scooter Ride to Work Day. Before strapping on your brain bucket, consider these tips, courtesy of your original auto insurance comparison company Answer Financial ® Inc..
Be your own safe-keeper You may have the right of way on the road way, and the cage driver next to you should know by now to share the road, but that doesn't mean he will. Remain alert, never assume you are seen, leave a cushion and give yourself an escape route in the event that traffic stops abruptly.
Make a Maintenance Checklist All the safe driving in the world may not protect you if your blinker isn't working or your tire blows on the highway. Make it a practice to check your brake pads, fluids, and tires, and test your headlights and blinkers. Your manual will tell you the optimum levels for your particular model.
Avoid temptation Your bike can be liberating, not to mention a huge time saver on your morning commute, as you weave around idle vehicles and leave them in the dust. However, while lane splitting is legal in some states, most notably California, it's not necessarily safe, especially when combined with speed. Have fun, but exercise caution.
Be financially protected While preventing physical harm by wearing a helmet is a no-brainer, don't forget to protect yourself financially by getting the proper amount of motorcycle insurance coverage. Think twice about reducing liability coverage, which pays for damage or injury to others in the event that you are at fault in an accident.
And save Get quotes from other companies to see if you can save. Also, remember to take advantage of the various discounts such as a multi-policy discount offered to those combining their motorcycle and auto policies or a discount for taking an approved safety course.
Whether you're needing to insure your beloved bike, your car, your home or even the family camper or trusty fishing boat, Answer Financial Inc. can help you shop and save all in one place. Call today to speak with an agent at 1-888-737-7000.
About Answer Financial® Inc.
Answer Financial, through its agencies Insurance Answer Center and Right Answer Insurance, is one of the largest independent personal lines agency operations in the nation, providing auto and home insurance policies directly to consumers and through a broad network of marketing partners. Answer Financial serves the growing segment of self-directed consumers searching for the best way to save money on insurance by providing one easy place to Shop, Compare, and Buy Insurance. By leveraging technology and partnerships with top-rated insurers including sister company, Esurance, Answer Financial can provide real-time comparison rates for virtually every consumer. Customers can purchase online or over the phone with the guidance of an insurance expert. Answer Financial is a member of the Allstate family of companies.