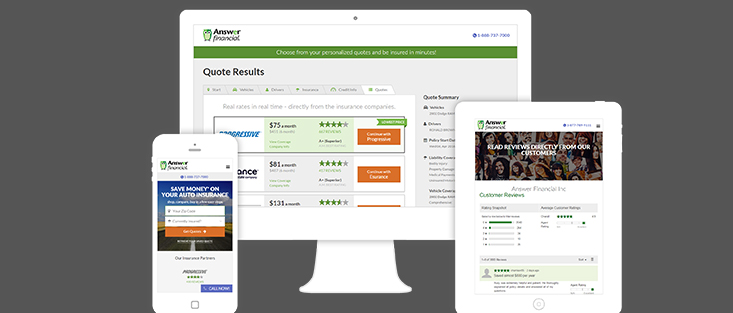 Answer Financial introduces first-of-its-kind customer reviews to its insurance shopping platform
Auto insurance shoppers can now compare personalized quotes alongside ratings and reviews for insurance companies before purchasing a policy.
Encino, CA; December 16, 2014 Answer Financial today announced the launch of customer reviews on its website, AnswerFinancial.com, where insurance shoppers go to compare quotes and insure their vehicles and homes. Consumers in all 50 states can now read actual customer reviews of more than 20 insurance companies represented by Answer. Shoppers who get auto insurance quotes with Answer Financial will be able to view prices for multiple brands alongside each company's financial strength rating and customer star rating.
The first-of-its-kind auto insurance shopping experience allows consumers to compare personalized quotes, customer ratings and reviews, and financial strength for multiple insurance companies all at once before buying a policy directly from Answer. Insurance shoppers may buy instantly online or with one of Answer's licensed insurance agents if they prefer the consultation of an expert. The all-in-one offering empowers consumers with everything they need to make informed auto insurance buying decisions. In addition to reviews for the insurance companies on Answer's platform, consumers may also read reviews of Answer Financial and see its real-time star rating on the company's homepage.
"For the first time, consumers will be able to see customer star ratings side-by-side with insurance quote comparisons so that they can easily make well-informed and confident purchase decisions," said Rob Slingerland, CEO. "This service builds on Answer Financial's tradition of innovation as we continue to invest in technology that improves the insurance shopping experience."
Answer Financial has been the go-to place for insurance comparative shopping and an industry pioneer for more than a decade, having sold its first policy online in 2006. To compare quotes, visit AnswerFinancial.com or speak with a knowledgeable licensed agent at 1-888-737-7000.
About Answer Financial Inc.
Answer Financial, through its agencies Insurance Answer Center and Right Answer Insurance, is one of the largest independent personal lines agency operations in the nation, providing auto and home insurance policies directly to consumers and through a broad network of marketing partners. Answer Financial serves the growing segment of self-directed consumers searching for the best way to save money on insurance by providing one easy place to Shop, Compare, and Buy Insurance. By leveraging technology and partnerships with top-rated insurers including sister company, Esurance, Answer Financial can provide real-time comparison rates for virtually every consumer. Customers can purchase online or over the phone with the guidance of an insurance expert. Answer Financial is a member of the Allstate family of companies.