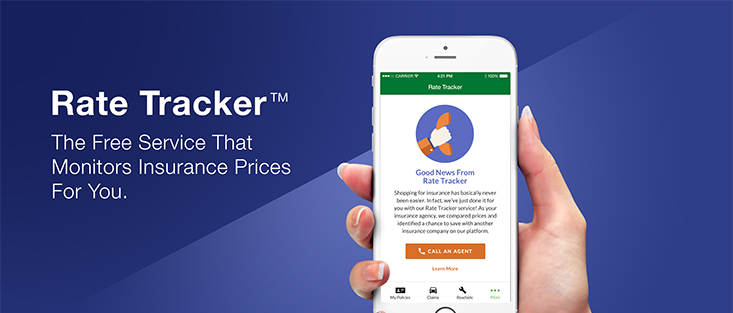 Answer Financial Introduces Rate Tracker™ Price Alerts for Car Insurance
Rate TrackerTM is an exclusive benefit for Answer policyholders that puts insurance shopping on autopilot and notifies customers of potential savings
Encino, CA – November 9, 2016 Answer Financial®, one of the largest personal auto and home insurance agencies in the U.S., announced today the introduction of its exclusive Rate Tracker™ service, a patent-pending technology offered as a benefit to Answer customers. Rate Tracker1 monitors insurance prices on behalf of customers and sends periodic alerts to let them know if they still have a competitive rate or could save money with another insurance company on Answer's comparison platform. Answer represents more than 20 insurance partners – including Progressive, MetLife, Esurance, and Safeco – providing quote comparisons and sales services, both online and over the phone with a US-based insurance expert.
"Insurance is one of the largest expenses for most households," said Darren Howard, Chief Marketing Officer for Answer Financial. "Our customers are busy with life, work, family – so they may not have time to regularly shop around for insurance. Now with Rate Tracker, Answer makes their lives easier by tracking prices for them."
Rate Tracker is a game changer in the way people shop for auto insurance, by automating a complex and time-consuming process. Rate Tracker builds upon Answer's proprietary comparison technology and established insurance carrier relationships, working in the background to check prices before a customer's current auto insurance policy renews. If an opportunity for potential savings is found, the customer is alerted with an email and a push notification through Answer's policyholder app, Answer MobileTM. If Rate Tracker finds the current policy is still the most competitive, the customer is informed that they still have a great rate, giving them peace of mind and confidence that they are not overpaying for their car insurance.
"Rate Tracker has been a homerun with our customers. It's blowing away our expectations with about 90% of people signing up for the service when they buy a policy," said Howard.
Rob Slingerland, CEO adds, "Rate Tracker is one of many ways we take care of our customers as their insurance agent. Our powerful insurance comparison solution was first introduced 20 years ago to simplify how people find and buy the right auto and home insurance for their needs. Over the years we've continued to evolve and expand our offering to take insurance to the next level of convenience, with 24/7 availability and mobile solutions like digital ID cards and roadside assistance through the Answer Mobile policyholder app. Rate Tracker is the latest service we're bringing to the market, exclusively for Answer customers."
Answer's virtual insurance agency compares rates and customer ratings for people in all 50 states, both when they first shop and at renewal time. Shoppers can buy directly online from Answer's mobile-friendly website or over the phone with a US-based insurance expert. With the company's Answer Mobile app, customers also have access to digital insurance ID cards and policy information, as well as roadside assistance and easy claims reporting. As their agent, Answer provides 24/7 customer care. Answer also recently launched its telematics-based mobile app, Streetwise Drivers Club, which rewards good drivers with deals on name brands, gift cards, dining, entertainment, and insurance savings in some states.
To compare quotes on insurance, visit www.AnswerFinancial.com, or speak with a licensed agent at 1-866-635-7777. To learn how Answer can power your company's insurance offering, contact businessdevelopment@answerfinancial.com.
About Answer Financial® Inc.
Answer Financial, through its agencies Insurance Answer Center and Right Answer Insurance, is one of the largest independent personal lines agency operations in the nation, providing auto and home insurance policies directly to consumers and through a broad network of marketing partners. Answer Financial serves the growing segment of self-directed consumers searching for the best way to save money on insurance by providing one easy place to shop, compare, and buy insurance. By leveraging technology and partnerships with top-rated insurers including sister company, Esurance, Answer Financial can provide real-time comparison rates for virtually every consumer. Customers can purchase online or over the phone with the guidance of an insurance expert. Answer Financial is a member of the Allstate family of companies.
1The Rate Tracker price check uses estimated rates based on information provided by the customer at the time of policy purchase, including information about the customer, additional drivers in the household, and covered vehicles. Since Answer may not have all the customer's latest information at the time of the automatic price check, accuracy cannot be guaranteed.
Answer Financial® Inc. offers insurance products and services through its insurance agency licensed affiliate Insurance Answer Center, LLC (California License # 0B99714); in New York as Insurance Answer Center, LLC, an Insurance Agency; in Michigan as Insurance Answer Center, LLC, an Insurance Agency; and in Missouri as Answer Financial. Answer Financial affiliated agencies are not insurance companies, but act as agents for certain insurance companies. Answer Financial's affiliate Right Answer Insurance Agency, LLC (CA License #0H52358) operates as an insurance broker in California and an agent in all other states. Answer Financial is paid commissions and may receive other performance-based compensation for its services. The compensation received by Answer Financial and its employees may vary by insurance company. Not all insurance products and services are available in all states. Rates are subject to change.