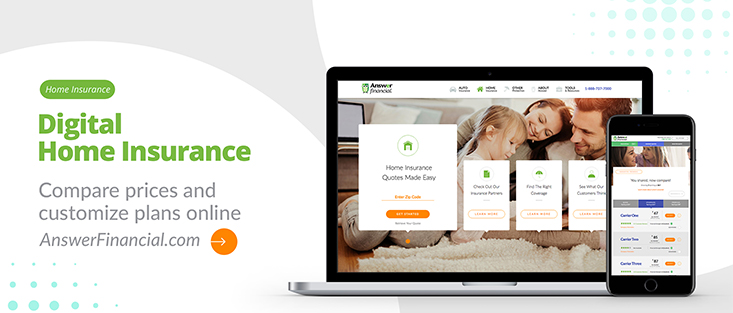 Answer Financial Launches Digital Homeowners Insurance Comparison Engine
The leading auto insurance comparison company will now deliver side-by-side comparison quotes for home and condo owners on digital platforms in all 50 states
Encino, CA – July 19, 2017 Answer Financial®, one of the largest personal lines insurance agencies in the U.S., announced today the expansion of its insurance comparison platform to include homeowners and condo insurance. The expansion enables shoppers to quickly compare rates and customize coverages from multiple homeowner insurers online, from a mobile-optimized experience. Answer represents a variety of the nation's top-rated home insurance companies including Safeco, ASI and Arrowhead.
By simply entering a zip code and home address, Answer's homeowners insurance comparison engine instantly pre-populates its quoting sequence with property details gathered from publicly available records such as square footage and year built, transforming what used to be a time-consuming chore into an effortless shopping experience. Shoppers can choose from basic, standard or premium insurance plans, or design a custom policy for the exact coverages they want.
Home and condo owners living in all 50 states can now shop and compare insurance rates online. Shoppers who decide to purchase coverage may call at any time to do so over the phone with one of Answer's licensed, US-based insurance advisors, who ensure the selected plan meets the protection needs of the customer and help them complete their purchase.
"Answer is a pioneer in using technology to simplify the way people shop for insurance," said Darren Howard, Chief Marketing Officer for Answer Financial. "Our new homeowners comparison platform was specially designed to retrieve quotes quickly and conveniently online – from your desktop, tablet or phone."
Partner companies are now able to offer homeowners insurance shopping as a complementary extension to their core products through partnership with Answer. Powered by Answer's proprietary comparison technology, businesses can provide a seamless, co-branded insurance shopping experience from start to finish. Homeowner and auto insurance shoppers can compare rates and customer reviews from among the 20+ insurers on Answer's platform.
To learn how Answer can power your company's auto and home insurance offering, contact businessdevelopment@answerfinancial.com. To compare insurance quotes, visit AnswerFinancial.com, or speak with a licensed agent at 1-866-635-7777.
About Answer Financial® Inc.
Answer Financial, through its agencies Insurance Answer Center and Right Answer Insurance, is one of the largest independent personal lines agency operations in the nation, providing auto and home insurance policies directly to consumers and through a broad network of marketing partners. Answer Financial serves the growing segment of self-directed consumers searching for the best way to save money on insurance by providing one easy place to shop, compare, and buy insurance. By leveraging technology and partnerships with top-rated insurers, Answer Financial can provide real-time comparison rates for virtually every consumer. Customers can purchase online or over the phone with the guidance of an insurance expert. Answer Financial is a member of the Allstate family of companies.
Answer Financial® Inc. offers insurance products and services through its insurance agency licensed affiliate Insurance Answer Center, LLC (California License # 0B99714); in New York as Insurance Answer Center, LLC, an Insurance Agency; in Michigan as Insurance Answer Center, LLC, an Insurance Agency; and in Missouri as Answer Financial. Answer Financial affiliated agencies are not insurance companies, but act as agents for certain insurance companies. Answer Financial's affiliate Right Answer Insurance Agency, LLC (CA License #0H52358) operates as an insurance broker in California and an agent in all other states. Answer Financial is paid commissions and may receive other performance-based compensation for its services. The compensation received by Answer Financial and its employees may vary by insurance company. Not all insurance products and services are available in all states. Rates are subject to change.