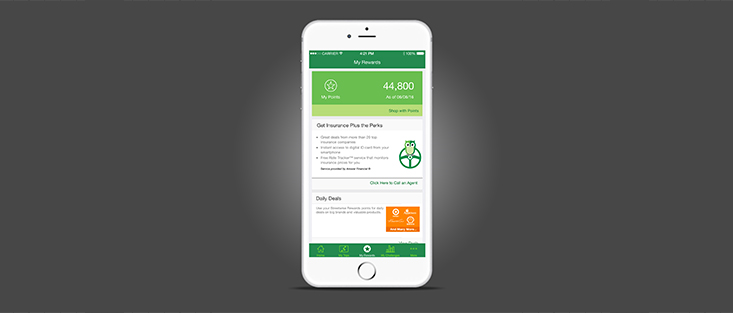 Answer Financial Launches Streetwise Drivers Club™ Telematics-based Mobile App
The free app rewards smart drivers with deals on top brands and savings on car insurance
ENCINO, Calif; July 19, 2016 Answer Financial®, one of the largest auto and home insurance agencies in the U.S.,announced today the launch of Streetwise Drivers Club®, the free mobile app that lets smart drivers earn rewards for beating driving challenges. Rewards points are redeemable for deals on popular brands, gift cards and restaurants through the Streetwise Rewards® program. Points can also be used to bid on daily auctions and enter sweepstakes for high-value prizes. New app users get 10,000 rewards points simply for signing up.
"Streetwise is like a Fitbit for drivers, providing feedback after each trip to help people better understand the way they drive," said Rob Slingerland, Answer Financial CEO. "Most Americans already think they are excellent drivers. The Streetwise app gives them a chance to prove it and earn rewards along the way."
The Streetwise app leverages the native GPS technology in smartphones to capture driving characteristics such as distance, speed, and how hard someone is braking. This information is provided after each trip to paint a picture of the person's driving behavior and share those insights to help them become smarter, safer drivers on the road. Streetwise works automatically in the background on the phone, so there is no risk of driver distraction.
"We've developed a driving app that values smart driving and allows people to earn rewards for it," said Slingerland. "In addition to the rewards program, the Streetwise app leverages Answer's insurance comparison platform to provide auto insurance savings based on your driving behavior."
Currently, top Streetwise drivers in Illinois and Indiana already have the opportunity to save money on their auto insurance with the Streetwise mobile app. Additional states will roll out in the coming months. In addition to auto insurance savings and the Streetwise Rewards program, the app will provide drivers with other relevant offers, such as discounts on tires.
The Streetwise Drivers Club app is available for Android and iPhone devices and can be downloaded from Google Play and the Apple App Store. For the latest smart driver tips and car technology news, visit StreetwiseDriversClub.com, the Streetwise Drivers Club page on Facebook and follow @streetwisedrive on Twitter.
About Answer Financial Inc.
Answer Financial, through its agencies Insurance Answer Center and Right Answer Insurance, is one of the largest independent personal lines agency operations in the nation, providing auto and home insurance policies directly to consumers and through a broad network of marketing partners. Answer Financial serves the growing segment of self-directed consumers searching for the best way to save money on insurance by providing one easy place to Shop, Compare, and Buy Insurance. By leveraging technology and partnerships with top-rated insurers including sister company, Esurance, Answer Financial can provide real-time comparison rates for virtually every consumer. Customers can purchase online or over the phone with the guidance of an insurance expert. Answer Financial is a member of the Allstate family of companies. www.AnswerFinancial.com