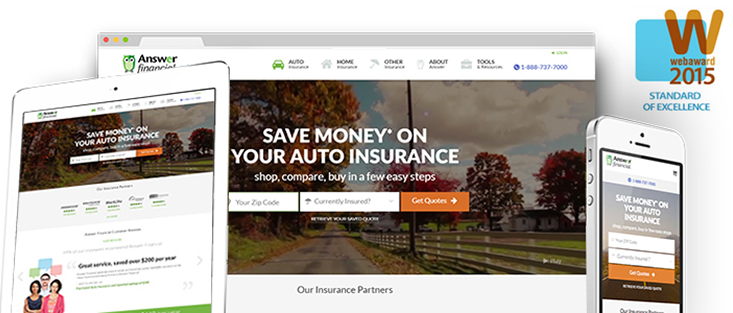 Answer Financial named a 2015 WebAwards winner
Answer's comparison website wins the Standard of Excellence award in the insurance category
Encino, CA; October 15, 2015 Answer Financial®, one of the largest auto and home insurance agencies in the U.S., is pleased to announce its recent recognition by the Web Marketing Association for Outstanding Achievement in Web Development.
The WebAwards evaluated more than 1,500 websites in 96 industry categories from 40 different countries. Judges evaluate against a standard of overall excellence and quality based upon the total score given on each website's design, innovation, content, technology, interactivity, copywriting and ease of use.
"Smartphone and tablet usage for financial services transactions continues to explode, and consumers expect a seamless experience across devices," said Sangram Reddy, Design Director. "This inspired our website upgrade using a responsive design. In fact, we have made the 'mobile first' shift, beginning all of our consumer-facing initiatives from a mobile perspective before scaling up for other devices."
Answer's website optimizes to any device, allowing consumers to compare and buy insurance online anytime and anywhere they want to shop. The new design elevates the site's experience, functionality and user-friendliness, adopting the most current best practices and trends in consumer preference. The result is a unique ability to compare quotes alongside customer ratings for multiple insurance companies all at once, whether from a mobile device, tablet or desktop.
Answer represents more than twenty insurance companies on its platform. It is a leading innovator in the insurance comparison industry, offering end-to-end mobile and online purchase options, along with licensed in-house agents to help shoppers finish their purchase at any point in the process.
Insurance shoppers interested in comparing personalized quotes can visit AnswerFinancial.com or call
1-866-635-7777 to speak with one of our licensed insurance agents.
For career opportunities at one of Answer Financial's offices in Ogden, Utah, its corporate headquarters in Encino, California, or one of its two Tennessee locations in Knoxville or Chattanooga, visit AnswerFinancial.com/Careers.