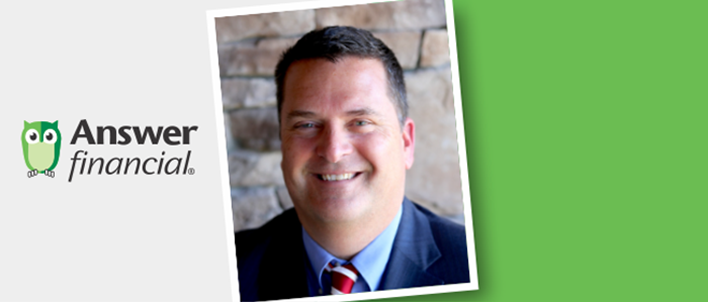 Answer Financial Names Knoxville Local Jeff Sadler as Vice President of Insurance Product Management
Sadler will advance carrier relations and the strategic vision for multiple lines of insurance products nationwide
KNOXVILLE, Tenn., June 18, 2019 – Answer Financial®, one of the largest personal lines insurance agencies in the U.S., today announced the promotion of Jeff Sadler to vice president of insurance product management. Sadler is based in Answer's Knoxville sales center.
Sadler joined Answer in 2017 and has helped grow its carrier network, expanding the core product offerings to include coastal, flood and small-business insurance coverage. His increased responsibilities will include strategically onboarding auto and home insurance providers that enable customers to compare plans and purchase coverage entirely online. Digital consumers that discover questions throughout their shopping journey have access to on-demand coverage counseling from a licensed expert.
"Jeff has led Answer through the acquisition of new insurance partners in key markets, so that our customers can find the coverage that fits their individual needs," said Curt Kibler, senior vice president and chief information officer for Answer Financial. "We know our customers need digital-centric solutions because many prefer to do business online, and Jeff's expertise and relationships in the insurance space will accelerate our ability to win in this area."
Answer works with more than 30 insurers to provide policy comparisons and fulfillment to consumers across the nation. To learn more about Answer's insurance platform, visit AnswerFinancial.com.
About Answer Financial® 
Answer Financial is one of the original insurtech companies, established in 1997 and focused on delivering auto insurance, home insurance and related products through strategic partnerships on behalf of more than 30 insurance providers. Today, it is a gateway connecting insurers with their target customers through its insurance comparison platform and licensed agencies.