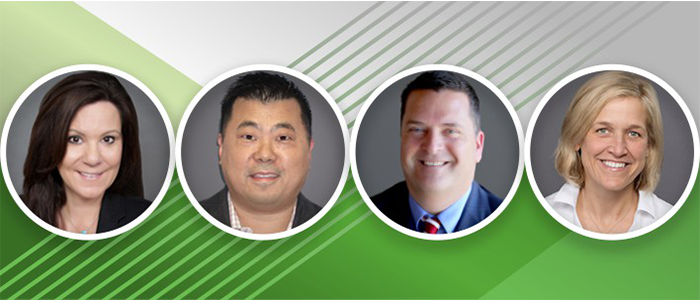 Answer Financial Realigns its Operating Committee and Appoints Two New Key Officer Positions
Redesigned leadership team will provide a greater level of support for customer-centric outcomes
ENCINO, Ca., January 27, 2021 – Answer Financial®, one of the largest personal lines insurance agencies in the U.S., today announced the realignment of its operating committee to better serve its growing base of policyholders and consumers interested in finding right insurance for their needs. The two new officer positions include Shelby Fogelman as vice president of legal & compliance and Joseph Guillory as vice president of finance, accounting & data analytics. Jeff Sadler has also been promoted to senior vice president of strategic partnerships and Jennifer Sherry has been promoted to senior vice president of agency operations & human resources.
Fogelman will be responsible for directing compliance and risk management across all business units. She will also oversee agency compliance to ensure critical, heavily regulated sales practices are met. By realigning agency compliance under the corporate compliance and legal department, Answer is better positioned to continue improving and enhancing its overall compliance effort, gain efficiencies and do right by its customers, partners and carriers.
Guillory will now lead the business intelligence, data science and data analytics groups to enhance Answer's ability for deeper financial and operational analyses, while continuing to translate complex business requests into analytical solutions that contribute to Answer's overall strategy. The three groups will work collaboratively to deliver higher data accessibility for all corporate functions, providing a more tailored and personalized insurance shopping experience for its customer base.
Sadler will oversee all aspects of lead generation and carrier delivery including business development, partner performance and new product channels. He will be responsible for the availability of insurance products nationally, advancing agency lines and partner success, to differentiate Answer in the market and ascend the organization toward more profitable growth.
Sherry will continue leading human resource operations, payroll, organizational development and learning optimization while assuming responsibility for sales center operations and customer journey. She will focus on enhancing the overall effectiveness of operations for both employees and customers by delivering timely and relevant content that drives behavior throughout the sales cycle and customer lifespan.
"These organizational updates will position Answer to better serve today's insurance shopper by delivering a seamless experience, designed from data and logic," said Ed Clark, Answer Financial's president. "Answer is on track to serve an influx of new customers in 2021 and Fogelman, Guillory, Sadler and Sherry have the experience and expertise needed to support our rapid growth while elevating our customer experience."
Answer works with more than 30, top-rated insurance companies to provide policy comparisons and fulfillment to consumers in all 50 states. To learn more about Answer's insurance platform, visit AnswerFinancial.com.
About Answer Financial®
Answer Financial is one of the original insurtech companies, established in 1997 and focused on delivering auto insurance, home insurance, and related products through strategic partnerships on behalf of more than 30 insurance providers. Today, it is a gateway connecting insurers with their target customers through its insurance comparison platform and licensed agencies. Answer Financial is a member of the Allstate family of companies.