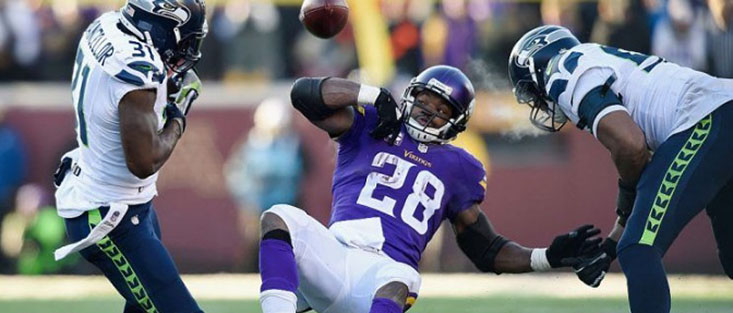 How May the Professional Football Draft Impact First-Round Contenders' Auto Insurance Rates?
Encino, CA; May 8, 2014 – As professional football fans gear up to see which talented newcomers will join their beloved teams, your original insurance comparison company, Answer Financial Inc., has considered the upcoming draft from another perspective: How might where these players end up affect their auto insurance rates*?
In particular, Answer looked at the insurance fates of a handful of QB standout prospects anticipated to go in the first round. Here's our assessment of team fit based on insurance prices:
Blake Bortles – University of Central Florida Knights
The Florida native began honing his elite arm from an early age when in high school he broke the county record for career passing yards. At UCF Bortles helped lead the Knights to their first major bowl victory and was named the Fiesta Bowl offensive MVP. Now as the top-ranked quarterback in the 2014 draft, he has several teams turning their heads, including the Minnesota Vikings and the Houston Texans. Luckily for Bortles, he's likely paying more for insurance in his college home of Orlando. By our estimates, drivers in Viking country pay nearly $3,500 less a year, making him our insurance MVP!
Johnny Manziel – Texas A&M Aggie
Closely following Bortles with an illustrious college career is Johnny "Football". The first freshman to receive a Heisman, Manziel is rumored to be heading to the Jacksonville Jaguars or the Oakland Raiders, but Manziel may be missing his College Station, Texas, rates if he makes the move to Florida. Jaguars pay $210 more than the Aggies.
Derek Carr – Fresno State Bulldog
Derek is not the first football star of his clan. Brother David Carr was a first round pick by the Houston Texans 12 years ago and most recently was a New York Giant. Derek will likely head for a different team, and based on the latest rumors you may see him suiting up for the Cleveland Browns or the Arizona Cardinals this fall. For the sake of Derek's insurance, he's better off with the Browns where drivers pay $584 less a year than the Cardinals.
Teddy Bridgewater – Louisville Cardinals
Another player said to be heading to Cleveland, Bridgewater is praised for his poise and field smarts. His incredible instincts may have a couple teams vying for him. Whether the Browns bring this star arm home to Cleveland or the Vikings to Minnesota, Bridgewater appears to be headed to an insurance market where drivers pay less a year than Louisville.
Teams and Annual Insurance Rate Estimates*
Player
University
Projected1
Possible
Blake Bortles
UCF Knights

$4,880.19

Minnesota Vikings

$1,380.45

Houston Texans

$2,605.50

Johnny Manziel
Texas A&M Aggies

$2,376.23

Jacksonville Jaguars

$2,585.76

Oakland Raiders

$2,290.77

Derek Carr
Fresno State Bulldog

$2,032.23

Cleveland Browns

$1,000.21

Arizona Cardinals

$1,583.89

Teddy Bridgewater
Louisville Cardinals

$1,973.60

Cleveland Browns

$1,000.21

Minnesota Vikings

$1,380.45
Let this be a lesson to all the drivers out there: where you live matters when it comes to your insurance. Your ZIP code can impact the price you pay to insure your vehicle. So to make sure you are not overpaying, compare personalized quotes at AnswerFinancial.com or speak with an agent at 1-888-737-7000.
Footnotes:
*Rates provided by auto insurance shopping comparison website www.AnswerFinancial.com. Annual premiums based on a previously insured single male, age 21-24, driving a Mercedes-Benz C350, excellent credit, no violations or accidents, 50/100 bodily injury limits, and $500 deductible. Rates correlate to team cities associated with each professional football draft prospect.
1References for Projections:
NFL® Mock Draft – https://www.nfl.com/draft/2014/mock-drafts
CBS Sports® Mock Draft – https://www.cbssports.com/nfl/draft/mock-draft
About Answer Financial® Inc.
Answer Financial, through its agencies Insurance Answer Center and Right Answer Insurance, is one of the largest independent personal lines agency operations in the nation, providing auto and home insurance policies directly to consumers and through a broad network of marketing partners. Answer Financial serves the growing segment of self-directed consumers searching for the best way to save money on insurance by providing one easy place to Shop, Compare, and Buy Insurance. By leveraging technology and partnerships with top-rated insurers including sister company, Esurance, Answer Financial can provide real-time comparison rates for virtually every consumer. Customers can purchase online or over the phone with the guidance of an insurance expert. Answer Financial is a member of the Allstate family of companies. www.AnswerFinancial.com