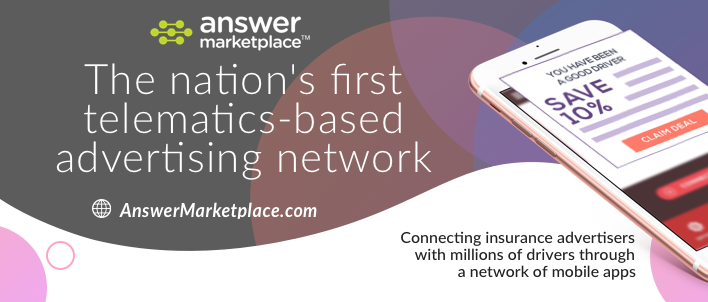 Introducing Answer Marketplace, the nation's first telematics-based advertising network
Answer Marketplace connects mobile app publishers with auto insurers, one of the largest digital advertising segments, and provides app users with tailored experiences and offers
Encino, CA – February 27, 2018
Answer Financial®, a leader in the insurtech space for the past 20 years, today announced the launch of Answer MarketplaceTM, the nation's first telematics-based advertising network.
Answer Marketplace will connect insurance advertisers with millions of drivers through a network of publishers seeking to enhance their apps by tapping into one of the largest digital advertising segments in the U.S. For the first time in insurance history, through the Answer Marketplace network of mobile app publishers, advertisers are able to understand drivers' risk and make smart, personalized offers to reach their ideal customers.
"We're proud to create an ecosystem that benefits drivers, insurance advertisers and app publishers all at once," said Darren Howard, senior vice president and chief marketing officer of Answer Financial. "By connecting with a mobile app in the Answer Marketplace network, drivers will be empowered by new driving-based features in the apps they use and provided with insurance offers based on their driving behavior. Meanwhile, insurers can personalize offers based on actual driving, and publishers can enhance their app experiences while monetizing their apps in the competitive app economy."
Answer Marketplace is actively building out its network of driving, location and auto-related mobile app publishers – including Life360, the world's leading family location and driving safety app.
For mobile app developers with rich location data, this partnership network provides a unique opportunity for them to craft relevant, revenue-generating customer experiences. Moreover, because users are logged in to the app and have completed a minimum number of trips before an ad is displayed, advertisers can overcome click fraud concerns.
Advertising, served through Answer Marketplace, will be deeply integrated with app publishers to create a native app experience through which opted-in users can receive relevant offers personalized to their driving behavior. Advertisers are able to reach high-intent customers with micro-targeted messaging and drive engagement of their desired customers, based on granular telematics data on users' actual driving behavior and risk (rather than general demographics and proxies as most on the market offer). In addition, advertisers can layer in other bidding variables, such as geography and current insurance status, allowing insurers to reap the benefits of UBI, whether or not they currently offer their own UBI programs.
Answer Marketplace is powered by Arity, a data science and analytics company focused on making transportation smarter, safer and more useful. Through this engagement, Arity is committing to making transportation more useful for consumers, empowering them to leverage safe driving habits for the most competitive insurance offers available.
The Arity Driving Engine SDK turns mobile devices into powerful sensors, capturing valuable driving data and generating a driving score that insurers can use for efficient bidding, without requiring usage-based insurance devices. The data Arity provides is based on data collected from the various telematics programs powered by the Arity platform.
For information on how to become an advertiser or publisher, visit AnswerMarketplace.com or contact partner@answermarketplace.com.
About Answer MarketplaceTM
Answer Marketplace is the nation's first telematics-based mobile advertising network, connecting insurers with millions of drivers through a network of auto-related mobile apps. Answer Marketplace™ is operated by Answer Financial® and powered by AritySM. Both companies are part of the Allstate® Family of Companies. Together, they deliver the first mobile advertising network with audience targeting based on driving risk.
AnswerMarketplace.com
About Answer Financial® Inc.
Answer Financial is one of the original insurtech companies, established in 1997 and focused on delivering auto insurance, home insurance, and related products through strategic partnerships on behalf of more than 30 insurance providers. Today, it is a gateway connecting insurers with their target customers, whether through its insurance comparison platform and licensed agencies, or through Answer Marketplace, the nation's first telematics-based mobile advertising network.
AnswerFinancial.com
About Arity
Arity is a technology company focused on making transportation smarter, safer and more useful for everyone. It transforms large amounts of data into actionable insights to help partners better predict risk and make smarter decisions in real time. The Arity platform is built on more than 30 billion miles of historical driving data with more than a million active telematics connections and over 7 years of data directly from cars. Arity was founded by The Allstate Corporation in 2016 and has offices in Northern Ireland, India and Chicago's Merchandise Mart. www.arity.com