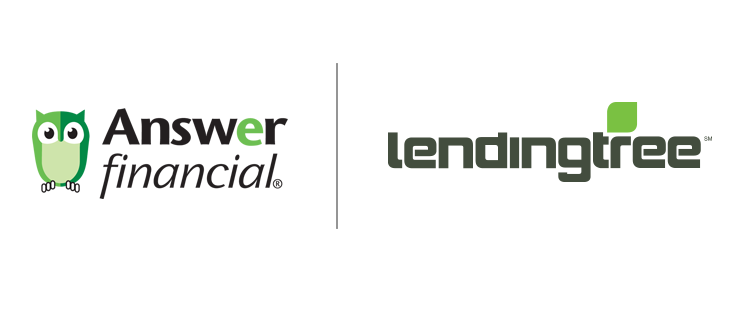 LendingTree Launches Insurance Comparison Platform Powered by Answer Financial
LendingTree consumers can now compare rates and coverages online or over the phone from top-rated insurance companies
ENCINO, Calif. – March 14, 2017 LendingTree®, the leading online loan marketplace, and Answer Financial®, one of the largest auto and home insurance agencies in the U.S., announced a new partnership today that will bring Answer's insurance comparison platform to millions of LendingTree consumers nationwide.
Powered by Answer's mobile-friendly comparison platform, people using LendingTree can now easily compare insurance rates, coverages and customer reviews for top-rated insurers and choose the plan that best fits their needs, all online. If customers need consultation during the process of purchasing insurance, they can call a US-based Answer insurance expert to evaluate their needs and guide them through their coverage and purchase options.
"Consumers come to LendingTree because they want to make smart financial decisions by comparing products apples-to-apples," said Doug Lebda, LendingTree founder and CEO. "We partnered with Answer because their insurance shopping platform brings choice and convenience to consumers, and they have the breadth of geographic and product coverage to be able to help almost anyone find what they need. Now, when people are looking for home and auto loans on LendingTree.com, they can also compare prices and buy the necessary home and auto insurance products, all in one place."
Nikul Patel, Chief Product and Strategy added, "Without comparison shopping platforms, the process of comparing loan and insurance options can be too time consuming and complex for many consumers. However, Answer and LendingTree are solving this problem through an integration with My LendingTree – a platform that makes it quick and easy to comparison shop a variety of financial products online."
"LendingTree is an online pro when it comes to giving consumers what they need to easily research their options on products that impact their budgets," said Rob Slingerland, Answer Financial CEO. "Answer is an expert at helping people find the right coverage at the right price on the significant household expenses of auto and home insurance. The Answer and LendingTree offerings are complementary, and teaming up will allow us to help more families and young people get the protection they need."
Answer has more experience than any insurance comparison platform in the industry, and is committed to helping businesses successfully roll out auto and home insurance offerings to their customers. The licensed agency works with more than 20 of the nation's top-rated insurance companies, including Progressive, Safeco, and Dairyland, to provide insurance solutions in all 50 states and for a broad range of risk profiles, both online and over the phone. LendingTree consumers who shop for insurance through the program will enjoy a seamless, co-branded experience from start to finish.
To compare quotes now, visit https://www.lendingtree.com/home-insurance-index or call a helpful, US-based insurance agent at 1-866-529-5815.
About LendingTree
LendingTree (NASDAQ: TREE) is the nation's leading online loan marketplace, empowering consumers as they comparison-shop across a full suite of loan and credit-based offerings. LendingTree provides an online marketplace which connects consumers with multiple lenders that compete for their business, as well as an array of online tools and information to help consumers find the best loan. Since inception, LendingTree has facilitated more than 65 million loan requests. LendingTree provides free monthly credit scores through My LendingTree along with access to its network of over 350 lenders offering home loans, personal loans, credit cards, student loans, business loans, home equity loans/lines of credit, auto loans and more. LendingTree, LLC is a subsidiary of LendingTree, Inc. For more information go to www.lendingtree.com, dial 800-555-TREE, like our Facebook page and/or follow us on Twitter @LendingTree.
About Answer Financial® Inc.
Answer Financial, through its agencies Insurance Answer Center and Right Answer Insurance, is one of the largest independent personal lines agency operations in the nation, providing auto and home insurance policies directly to consumers and through a broad network of marketing partners. Answer Financial serves the growing segment of self-directed consumers searching for the best way to save money on insurance by providing one easy place to shop, compare, and buy insurance. By leveraging technology and partnerships with top-rated insurers including sister company, Esurance, Answer Financial can provide real-time comparison rates for virtually every consumer. Customers can purchase online or over the phone with the guidance of an insurance expert. Answer Financial is a member of the Allstate family of companies.
Answer Financial ® Inc. offers insurance products and services through its insurance agency licensed affiliate Insurance Answer Center, LLC (California License # 0B99714); in New York as Insurance Answer Center, LLC, an Insurance Agency; in Michigan as Insurance Answer Center, LLC, an Insurance Agency; and in Missouri as Answer Financial. Answer Financial affiliated agencies are not insurance companies, but act as agents for certain insurance companies. Answer Financial's affiliate Right Answer Insurance Agency, LLC (CA License #0H52358) operates as an insurance broker in California and an agent in all other states. Answer Financial is paid commissions and may receive other performance-based compensation for its services. The compensation received by Answer Financial and its employees may vary by insurance company. Not all insurance products and services are available in all states. Rates are subject to change.