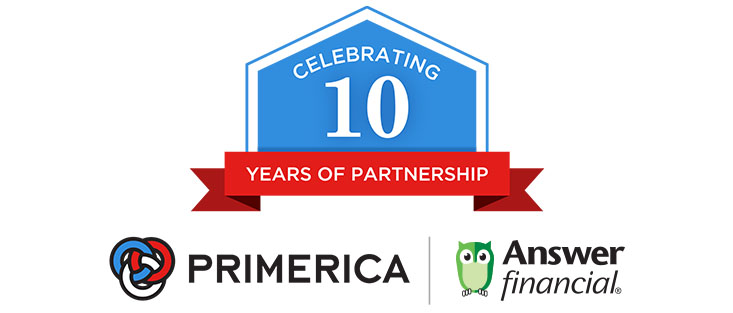 Primerica and Answer Financial celebrate 10 years of helping clients with their auto and home insurance needs
The partnership helps Main Stream families find savings on auto and home insurance that can be saved or applied toward necessary life insurance products
Encino, CA – July 11, 2017 – Primerica, Inc., a leading distributor of financial services to Main Street families throughout North America, along with Answer Financial®, one of the nation's largest auto and home insurance agencies, are pleased to announce ten years of successful partnership.
In 2007, Primerica noticed some of its potential clients lacked the financial means necessary to implement a sound financial plan and recognized the important role auto and home insurance could play in helping those clients. It then began to pursue a relationship with Answer, in an effort to help consumers compare rates and coverages from more than 20 top-rated insurance companies to see if they could be saving on their premiums.
In 2007, the two industry leaders joined forces to launch Primerica Secure, a white-labeled auto and home insurance program that allows Primerica's representatives to refer clients to a team of Answer's US-based licensed agents. The auto and home insurance program enables Primerica representatives to help their clients find the right coverage and price for their auto and home insurance needs.
During their 10 years of partnership, Answer has served approximately 400,000 Primerica customers, helping them save on the important protection they need for their cars and homes. On auto insurance alone, Answer customers save an average of $451 a year 1.
"The partnership between Primerica and Answer was a natural step for us, as we're both in the business of protecting families and their most valued assets by helping them find the best coverage possible for their budget," said Glenn Williams, Primerica CEO. "Answer routinely exceeds the expectations of both our sales force and clients, and we look forward to serving many more families through our partnership."
"The most successful Primerica life insurance representatives leverage Answer's auto and home insurance program to help their clients save money on their premiums while still getting the coverage they need," said Rob Slingerland, Answer Financial CEO. "Once Primerica clients become policyholders with Answer, we provide additional services like Rate Tracker, which automatically shops auto insurance rates at renewal time, and the Answer Mobile app for quick access to digital ID cards, policy information, roadside assistance, and click-to-call claims."
To explore Answer's partnership opportunities, visit b2b.answerfinancial.com.
1 Results of a national survey of new Answer Financial customers reporting auto insurance savings in 2016.
About Primerica, Inc.
Primerica, Inc., headquartered in Duluth, GA, is a leading distributor of financial products to middle income households in North America. Primerica representatives educate their Main Street clients about how to better prepare for a more secure financial future by assessing their needs and providing appropriate solutions through term life insurance, which we underwrite, and mutual funds, annuities and other financial products, which we distribute primarily on behalf of third parties. In addition, Primerica provides an entrepreneurial full or part-time business opportunity for individuals seeking to earn income by distributing the company's financial products. We insured approximately 5 million lives and have over 2 million client investment accounts at December 31, 2016. Primerica stock is included in the S&P MidCap 400 and the Russell 2000 stock indices and is traded on The New York Stock Exchange under the symbol "PRI."
About Answer Financial® Inc.
Answer Financial, through its agencies Insurance Answer Center and Right Answer Insurance, is one of the largest independent personal lines agency operations in the nation, providing auto and home insurance policies directly to consumers and through a broad network of marketing partners. Answer Financial serves the growing segment of self-directed consumers searching for the best way to save money on insurance by providing one easy place to shop, compare, and buy insurance. By leveraging technology and partnerships with top-rated insurers including sister company, Esurance, Answer Financial can provide real-time comparison rates for virtually every consumer. Customers can purchase online or over the phone with the guidance of an insurance expert. Answer Financial is a member of the Allstate family of companies.
Answer Financial® Inc. offers insurance products and services through its insurance agency licensed affiliate Insurance Answer Center, LLC (California License # 0B99714); in New York as Insurance Answer Center, LLC, an Insurance Agency; in Michigan as Insurance Answer Center, LLC, an Insurance Agency; and in Missouri as Answer Financial. Answer Financial affiliated agencies are not insurance companies, but act as agents for certain insurance companies. Answer Financial's affiliate Right Answer Insurance Agency, LLC (CA License #0H52358) operates as an insurance broker in California and an agent in all other states. Answer Financial is paid commissions and may receive other performance-based compensation for its services. The compensation received by Answer Financial and its employees may vary by insurance company. Not all insurance products and services are available in all states. Rates are subject to change.