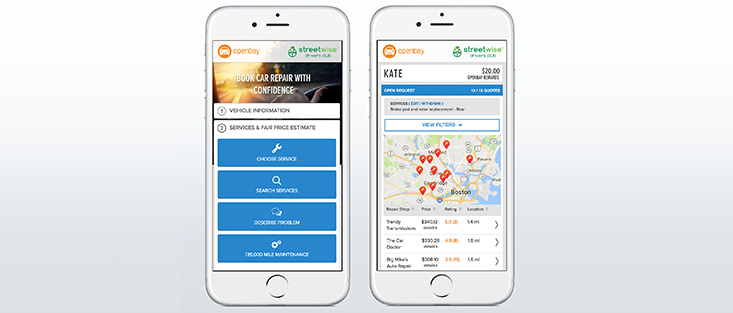 Streetwise Drivers Club™ App Now Features Openbay Auto Repair Marketplace
Partnership delivers additional savings, safety and convenience for app users
ENCINO, Calif; August 30, 2016 Streetwise Drivers Club™, the app that rewards smart drivers with deals on everything from dining and gift cards to tires and insurance, announced today the launch of a new enhancement connecting app users with Openbay, the auto-repair marketplace. Openbay enables users to easily compare prices on car repairs, read reviews for providers and schedule services through the Streetwise app.
Streetwise is powered by Answer Financial, one of the largest auto and home insurance agencies in the U.S., representing more than 20 insurance companies on its comparison platform. Streetwise helps people become more aware of their driving behavior and earn deals along the way by beating challenges for driving safely. Users earn points which are redeemable for deals on popular brands, gift cards and restaurants through the Streetwise Rewards TM program. In addition to the rewards program, the app leverages Answer Financial's insurance comparison platform to provide auto insurance savings based on driving behavior.
Openbay offers Streetwise users a faster, more efficient way to service their vehicles by allowing them to compare, book and pay for service with a national network of independent service centers, franchise dealerships and mobile mechanics. Through Openbay, users may schedule anything from a spark plug change to a new set of tires or even an engine replacement.
"The Streetwise app brings transparency and rewards to the driving experience, and now, through our relationship with Openbay, we're delivering the same for auto care, so our users can make informed decisions about where to maintain and repair their cars," said Rob Slingerland, Answer Financial CEO.
"Streetwise and Openbay provide complementary services to drivers. By teaming up, this relationship allows us to deliver a suite of services that neither company could easily deliver at scale on its own," said Rob Infantino, founder & CEO, Openbay.
The Streetwise Drivers Club app is available for Android and iPhone devices and can be downloaded from Google Play and the Apple App Store. For the latest smart driver tips and car technology news, visit StreetwiseDriversClub.com, the Streetwise Drivers Club page on Facebook and follow @streetwisedrive on Twitter.
About Answer Financial Inc.
Answer Financial, through its agencies Insurance Answer Center and Right Answer Insurance, is one of the largest independent personal lines agency operations in the nation, providing auto and home insurance policies directly to consumers and through a broad network of marketing partners. Answer Financial serves the growing segment of self-directed consumers searching for the best way to save money on insurance by providing one easy place to Shop, Compare, and Buy Insurance. By leveraging technology and partnerships with top-rated insurers including sister company, Esurance, Answer Financial can provide real-time comparison rates for virtually every consumer. Customers can purchase online or over the phone with the guidance of an insurance expert. Answer Financial is a member of the Allstate family of companies. www.AnswerFinancial.com
About Openbay
Openbay is an online marketplace transforming the auto-repair experience for consumers, and the way that service providers acquire and service customers. In 2015, Openbay announced OpenbayConnect, allowing connected cars to communicate with Openbay for repair and maintenance service. Openbay is headquartered in Cambridge, MA, is privately held, and its investors include GV (formerly Google Ventures), a16z seed, Boston Seed Capital, Stage 1 Ventures and several individual investors.