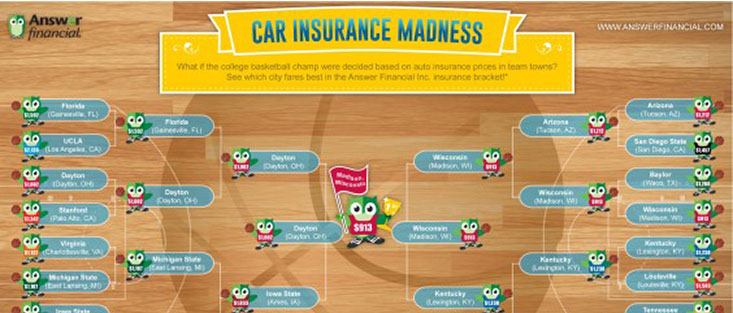 Which Sweet 16 College Basketball Hometown Wins for Lowest Insurance?
Encino, CA; March 26, 2014 Inspired by the excitement of the 2014 men's college basketball tournament, the original auto insurance comparison company Answer Financial ® Inc. shares how the hometowns of the sweet 16 teams fare when you compare insurance prices*.
South
First seed Florida Gators were given 4:1 odds of heading home champs. So not surprisingly, they shut down Pitt, and UCLA did the same for Stephen F. Austin. However, the hometowns of both basketball powerhouses ranked the bottom two in our insurance bracket. Ouch! Time to compare and save.
Underdogs Dayton and Stanford are proving their prowess with thrilling second-round victories, but there's far less parity with auto insurance prices; Dayton takes our second lowest slot at $1,002 versus Stanford's $1,342.
East
Michigan State boasts great press, topping out President Obama's Barack-etology. If the game against Virginia looks anything like the race for cheapest rates, it will be a close one with East Lansing eking out the win with only $15 less per year.
Rates in Storrs — home of the University of Connecticut — soar at a whopping $1,816. With this rate, Huskies have no hope against Iowa State Cyclones in Ames, who pay about $783 less per year. That's what we call a blowout!
West
Arizona (#1 seed) faces off with San Diego State, a worthy competitor with only one game shy of an equal win/loss record. As for insurance rates, you're better off living under the Tucson sun by a margin of $245 per year.
Wisconsin has wins over top contenders Florida and Virginia pre-tournament, but Baylor could prove challenging with their crushing victory over higher-ranked Creighton. Game on for Badgers v. Bears, except in insurance where Madison serves up a brutal defeat, paying $913 per year against Waco's mediocre $1,266.
Midwest
UK caused an epic upset, beating undefeated Wichita State. Can Kentucky keep it up against neighboring Louisville? Maybe, but when it comes to insurance the Wildcats of Lexington, KY, are a slam dunk, paying about $345 less per year.
Second seed, Michigan may be favored against Tennessee, but the Volunteers dwell in Knoxville and pay a cool $117 less to protect their wheels than the Ann Arbor Wolverines. As fellow Tennessee fans and Knoxville residents, Answer Financial will be rooting for our Vols all the way!
And the Winner of the Insurance Tournament Is… Madison, Wisconsin, at a modest $913/year. Happy driving, Badgers!
From wherever you hail, if you're paying too much for car insurance, Answer Financial can help you compare prices and save on coverage.
*See Insurance Bracket for source details.
About Answer Financial® Inc.
Answer Financial, through its agencies Insurance Answer Center and Right Answer Insurance, is one of the largest independent personal lines agency operations in the nation, providing auto and home insurance policies directly to consumers and through a broad network of marketing partners. Answer Financial serves the growing segment of self-directed consumers searching for the best way to save money on insurance by providing one easy place to Shop, Compare, and Buy Insurance. By leveraging technology and partnerships with top-rated insurers including sister company, Esurance, Answer Financial can provide real-time comparison rates for virtually every consumer. Customers can purchase online or over the phone with the guidance of an insurance expert. Answer Financial is a member of the Allstate family of companies. www.AnswerFinancial.com